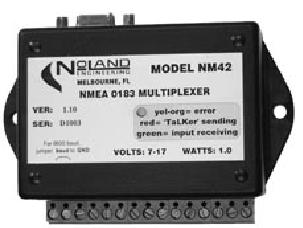 If you need to connect multiple NMEA sources
to your computer or instrument system,
but only have one port to receive all the data,
this multiplexer will solve the problem for you!
The NoLand NM42 is the updated and improved version of the industry standard N183-41 serial multiplexer. It combines up to four NMEA instruments into a single RS-232C output for use by a computer, instrument system, or other NMEA listener. The multiplexer reads and stores the incoming data from each instrument. Whenever a complete message is received, the multiplexer automatically dumps it to the RS-232C output, even while it is still reading the inputs. Therefore, complete messages are dumped as soon as they are received without any loss of input data. A "Talker" port is also included to allow the computer to request specific messages from instruments or to send data such as waypoints or steering commands.
Installation of multiplexer is quite simple. The module may be mounted to any convenient surface with all connections made via a terminal strip. A DB9 9-pin connector is provided for PC connection if desired. The unit is fully automatic in that once power is applied, it immediately begins acquiring data without user interaction. No software drivers or software configuration are needed.
An LED shows operating status of the multiplexer. Green indicates an input is receiving valid data. Red indicates the talker port (TLK) is sending data. Yellow-orange indicates an error has occurred. Error messages are sent to the outputs to aid in fault detection.,
If more than four inputs are needed, multiple modules may be ganged together.