Mobile Data Wireless Display (MDWD)
DURABILITY FEATURES
• Designed using MIL-STD-810F test procedures
• Full magnesium alloy case
• Moisture- and dust-resistant LCD
• Sealed port and connector covers
DISPLAY
• 8.4" 800 x 600 (SVGA) transflective, sunlight-readable TFT Active Matrix Color LCD with Touchscreen
KEYBOARD & INPUT
• Touchscreen LCD
• Pop-up on-screen keyboard
• Built-in stylus
• Serial port (9-pin)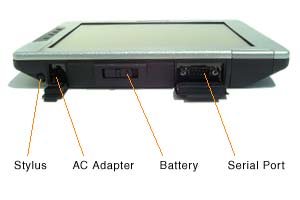 SWITCHES
• Power, Menu, Right Mouse Click, Screen Capture
POWER SUPPLY
• Lithium Ion battery pack (1800mAH/7.4V)
• Battery operation: up to 4 hours (Backlight OFF), up to 2 hours (Backlight ON, Low), up to 1.5 hours (Backlight ON, High)*
• Battery charging time: approximately 2 hours (Backlight OFF), 5 hours (Backlight ON)
WARRANTY
• 3 year limited warranty, parts & labor
DIMENSIONS & WEIGHT
• 8.4(H) x 1.2(D) x 6.4(W)
• 1.5 lbs.
Rugged & Sunlight-Readable
yachtSOFT.com's Panasonic MDWD Wireless Display system is already bundled with the peripherals you need:
MDWD Display
Operating Software
Two Batteries
Battery Charger (3 slot)
DC Adapter for Charger
USB Wireless Network Interface
5M USB Extension Cable
Case, with neck strap
Contact Us for Current Price.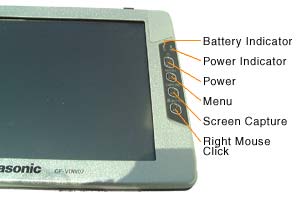 * Battery performance features such as charge time and life span can vary according to the conditions under which the computer/battery are used. Battery operation and recharge times will vary based on many factors including screen brightness, applications, features, power management, battery conditioning and other customer preferences.
· yachtSOFT.com, LLC · tel: 1(800)483-8100, code #97 (outside NY Metro) or 1(516)482-8800 · fax: 1(516)482-8801 ·
· web: http://www.yachtsoft.com · e-mail: WirelessDisplay@yachtsoft.com ·
yachtSOFT.comtm can bundle complete packages for you, including wireless display, marinized laptop or mini computer w/ display, and if you like, pre-installed software including electronic charting and CD-ROM charts, weatherfax, yacht management, along with hand-held GPS, etc., and dealer tech support, making the transition to marine computing as easy as possible. Please contact us to assemble a system that works for you, and within your budget.
Please e-mail or telephone us if you have any questions about or would like to order the Panasonic MDWD Display Bundle.